Walls and Towers
Decorative Items
Assyria


Assyrian Lion


Winged Bull Guardian


Tiglath-Pileser III


Battering Ram


Siege Relief


Hebrew Captives


King Stabbing Lion


Forced Quarry Labor


Human Headed Bull


Assyrian Archers


The Black Obelisk

Babylon


The Striding Lion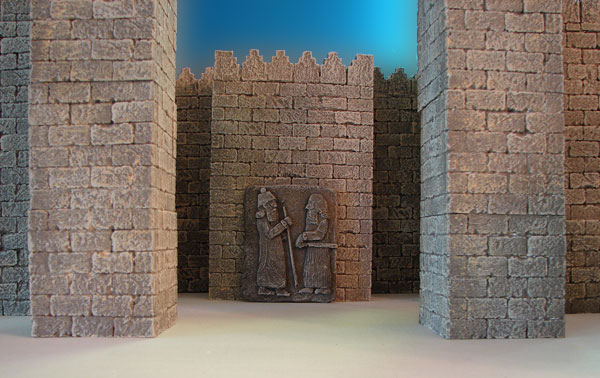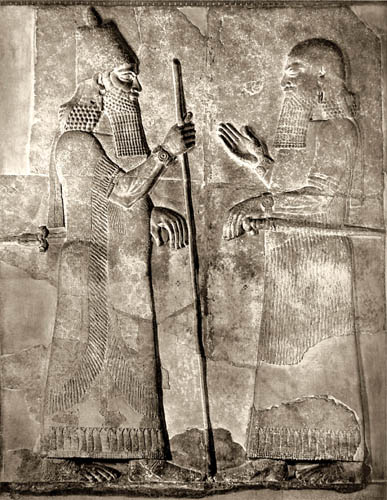 Sculpture of Sargon II with Vizier, gypsum, Khorsabad, Neo-Assyrian, 721-705 BCE
From the Neo-Assyrian Period, 1000 BCE - 612 BCE
Found in Khorsabad
The palace of Sargon at Khorsabad (Dur-Sharrukin) was decorated with carved orthostats depicting various subjects including tribute, processions, mythical beasts and even the procurement of timber by sea. The above detail depicts Sargon II (at left) wearing the Assyrian royal cone crown and carrying the staff of kingship. He greets his vizier (to right) who raises his hand in a gesture of respect. Details of dress are apparent, such as the fringed garments and jewelled bracelets worn by those of the Assyrian court.
Here standing face to face, are Sargon, conqueror of Samaria and Israel, and the Tartan, his commander-in-chief, who is making his report in the audience chamber. With staff in one hand and sword in the other, the king embodies a power that brooks neither opposition nor contradiction. Submission alone is permitted. None dared counter his inexorable will.
"In the year that Tartan came unto Ashdod, (when Sargon the king of Assyria sent him,) and fought against Ashdod, and took it;" - Isaiah 20:1
=========================
Sargon II and his Tartan (Assyrian tartanu), the title given to the commander-in-chief of the Assyrian army (II Kings 18:17). Detail from a relief in the Palace of Sargon II at Khorsabad, 8th century B.C. (British Museum).