Walls and Towers
Decorative Items
Assyria


Assyrian Lion


Winged Bull Guardian


Tiglath-Pileser III


Battering Ram


Siege Relief


Hebrew Captives


King Stabbing Lion


Forced Quarry Labor


Human Headed Bull


Assyrian Archers


The Black Obelisk

Babylon


The Striding Lion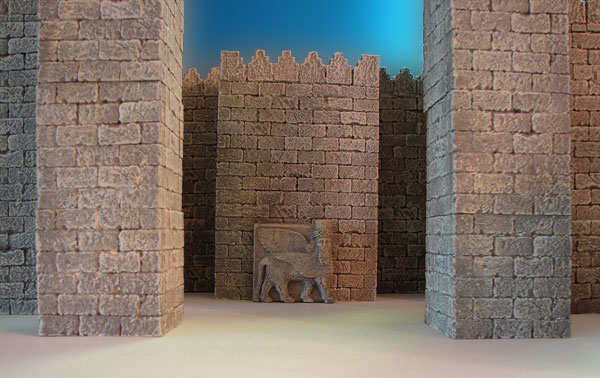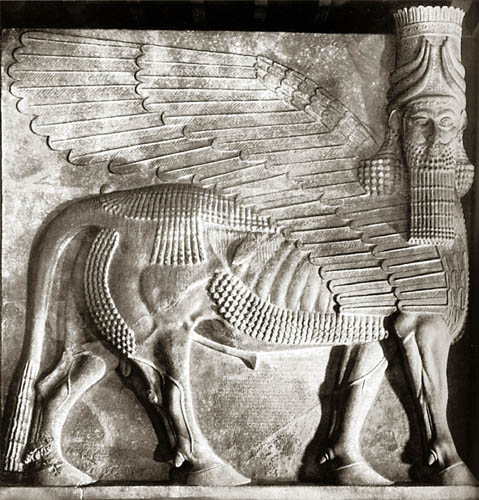 Sculpture of Winged Lamassu, stone, Khorsabad, Neo-Assyrian, 721-705 BCE
From the Neo-Assyrian Period, 1000 BCE - 612 BCE
Found in Khorsabad
Covered in lecture on Apr 15th, 2005
Sculpture was used extensively to decorate the palaces of Neo-Assyrian kings in the form of carved orthostats lining walls, and also colossal stone beasts placed in doorways as protective entities. This Colossal winged bull or 'lamassu' was set up in the entry to the throneroom at Sargon's palace at Khorsabad (721-705 BCE).
The human-headed winged bull (Lhamassu) wears the horned crown of supernatural beings. Figures such as this one were placed in doorways of throne rooms of the Neo-Assyrian kings as protective creatures (although one of the reasons a scribe noted for the death of Sennacherib was that a Lhamassu fell on him because of his impious deeds). This powerful creature was later reused in Achaemenid royal gates.
Human-headed winged bull-gods or Lamassu were placed in doorways of Assyrian king's thronerooms as symbols of power and protection. This Lamassu has five legs, so that if viewed from either front or side it will always have the correct number. In the reign of Sennacherib, Lamassu with four legs replaced their predecessors with five legs.